Share: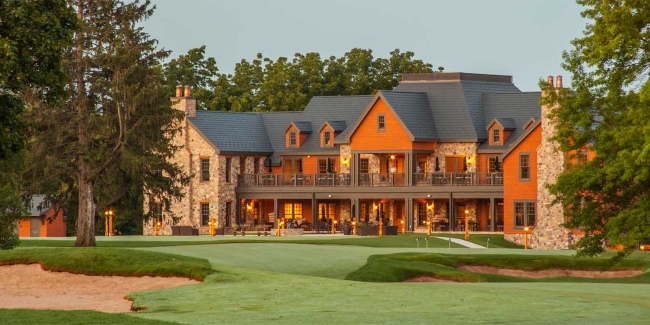 Beloit Club is just the latest feel-good story in Wisconsin golf
By Len Ziehm
BELOIT, Wisconsin - The last two decades have done wonders for golf in Wisconsin. Look no further than the creations of Blackwolf Run, Whistling Straits, Erin Hills and - most recently - Sand Valley. And don't forget the recent major upgrades at SentryWorld and Lawsonia.

The Beloit Club should count in that mix as well, though it doesn't have a high-profile tournament course and isn't open to the public, either.

A private facility since its opening in 1909, the Beloit Club's transformation in just the last two years has carried over to most positive changes in the town of 30,000 in which it resides. Golf is just part of it.

Prior to taking on its present name in 2014 the Beloit Club was known as the Country Club of Beloit. Its course was designed by Tom Bendelow, who seems to have designed a vast majority of the layouts that went up in the Midwest in the early 1900s. Bendelow's designs were pretty basic things but, surprisingly, many are still most relevant now - though renovations and upgrades were inevitable. That's been the case at the Beloit Club.

Stanley Pelchar, who designed courses mainly in the 1920s, is also listed among the architects of record as is Bob Lohman, who started his successful Illinois firm in 1984.

The city of Beloit, just over the Illinois line from Rockford, was one of many that struggled in the economic downturns of the last decade and its only private golf club did as well. The club's membership dipped to 115 before help from life-long area resident Diane Hendricks was requested.

Hendricks, a billionaire who deemed a private golf club a necessary amenity in her community, decided she'd simply purchase the club. That's when exciting things started to happen. Hendricks, whose ownership of some 65 companies began when she and her late husband Ken took over ABC Supply - the largest wholesale distributor of roofing and siding materials, has invested $15 million in the Beloit Club project.

Every building on the property - from the clubhouse to the swimming pool to the maintenance facility and cart barn - is now brand new. Oliphant/Haltom was brought in to manage the golf course and that led to the removal of 500 trees in what was largely a cleanup effort.

The course, which measures 6,847 yards from the back tees and 5,160 from the front, is great for walking and fun for players of all abilities. The square-shaped tee boxes and mowed paths from greens to tees enhance a most pleasant setting. Best of all, though, are the four par-3s - Nos. 3, 7, 10 and 16. Taken collectively, I can't recall seeing a better combination of short holes - though I'll admit that's an argumentative appraisal.

Kent Instefjord, the Beloit Club's general manager, arrived when the upgrading began but he was already well versed in the spectacular golf growth in the Badger state. Raised in nearby Janesville, he worked at Blackwolf Run before a stint as head professional at Whistling Straits from 1998 to 2003 and was also general manager and director of golf at Erin Hills from 2006 to 2010. Instefjord had similar roles at high profile clubs in Missouri (St. Albans) and Arizona (LaPaloma) before returning closer to home for the Beloit Club revival.

Since his arrival the membership has climbed to 380 - with 100 coming just this year -and the upgrading is far from finished. An expansion of the lockerrooms and pro shop and the creation of a spa and lodge to accommodate overnight guests is also in the works.

The next new thing, though, will come off the Beloit Club property. The Ironworks Golf Lab has a scheduled October opening in Beloit's soon-to-be-bustling downtown area. It'll be open to the public and offer, among other things, three indoor golf simulators with the Beloit Club staff running the operation.
Revised: 08/16/2016 - Article Viewed 33,419 Times - View Course Profile

About: Len Ziehm
---
My 41-year career on the Chicago Sun-Times sports staff ended with my retirement on June 30, 2010. During that stint I covered a wide variety of sports, but golf was a constant. I was the paper's golf writer for 40 years, during which time I covered 27 U.S. Opens, 10 Masters, 17 PGA Championships, four U.S. Women's Opens and the last 34 Western Opens in addition to a heavy load of Chicago area events.

For 20 years I was a columnist for Chicagoland Golf, a newspaper that suspended publication following the death of founder and good friend Phil Kosin in 2009. (This is not to be confused with the publication of the same name which was introduced in 2013 after being known as Chicago Area Golf for three years). I also contributed a chapter to a history book on the Solheim Cup and have been a member of the selection committee for the Illinois Golf Hall of Fame.

As a player I remain just an avid hacker with a handicap that never has dipped below 16.

---
More Articles by Len Ziehm