Share:
---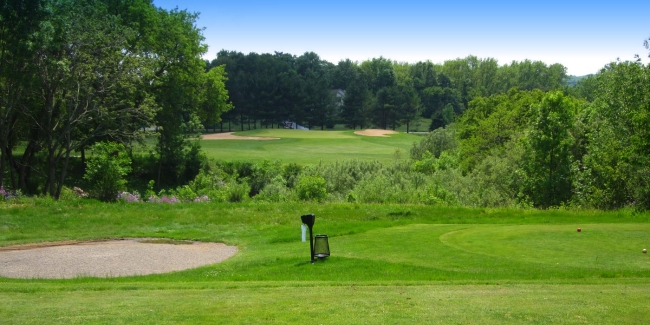 Baraboo Country Club
The BCC is a Must Play
By Paul Seifert
A week and a half ago, one of my good friends called to see if I have any connections for finding four tee times for his bachelor party in Wisconsin Dells. With it being "Automotive Week," every course in the city was swamped, or at best already had full-season rates up to $95. The group won't go for that, he said, and I can't blame them. I made some calls and found the same issues - Wild Rock, Trapper's Turn, etc. - all booked solid.

I went on GolfNow to look up other courses in the Dells, and came across Baraboo Country Club. I wouldn't normally think of country clubs, as "country club," in general, implies minimal opportunities for outsiders to play. The rates were ideal, though, and I recommended to Tad that he give them a call. There were no issues getting consecutive tee times, and he was able to book us for $39 apiece, including cart.

Twenty minutes outside of the Dells, Baraboo Country Club delivered in a big way. I was excited to see an old friend in the pro shop, Angel Martinez. Angel was an Assistant PGA Pro at Brown Deer during their late Greater Milwaukee Open and US Bank Championship years, and has been at Baraboo for the past three. He is also one heck of a nice guy. The rest of the staff was equally as friendly and accommodating, especially the General Manager, Clint, and their beer cart girl who was wonderful. Unfortunately I did not get her name.

The practice green was an eye-opener, for sure: A very quick green with a huge downhill slope through the bottom half. Take a lesson from this practice green, and understand early that you never want to be above the hole on this course! In fact, practice mostly on the downhill area to best prepare yourself for the actual round. With as extreme as this practice green is, it is probably one of the most relevant putting greens I have found. Most practice facilities and actual course experiences don't match up well. This is not the case here, so spend some time trying to stay close to the bottom holes.

Baraboo Country Club plays like many old courses and country clubs, with a lot of slope, forgiving rough, tall tree lines, ideal sand conditions, and several shared tee boxes. Unlike many mature courses, though, the conditions are phenomenal. The greens were some of the toughest I have played, and were so fast that almost all approach shots had to be run on for any chance of holding. Baraboo has some of the fastest, most true greens I have played, rivaling those of Hawk's Landing and the Brute at Grand Geneva. The course claims they run at a ten on the stimp-meter, but having played tens a number of times I would think the actual number is higher.

With two par threes and several forced lay-ups, drivers stayed in the bag until the fifth hole, which was unfortunately straight in to the teeth of a 25-plus mile per hour wind. There are three par threes and three par fives on the front nine, and Draper Creek meanders through the first eight holes, contributing to this being a very strategic golf course.

The par threes are very interesting, with good distances that range from 145 to 179 yards from the white tees (171 to 201 from the blacks). The course itself is not staggeringly long - only 6,311 yards from the white tees, and 6,591 from the tips. There are plenty of challenges to keep players on their heels, though, including forced cuts and draws off the tees.

The toughest hole on the course is the par five eighth. The landing area is littered with small trees and a mounded waste area to the left, which I believe is an Indian burial ground. Almost any drive will require a lay-up to the creek, which fronts a huge uphill climb to a well-guarded green about 130 yards (and probably 30+ yards uphill) beyond. Sand is on both sides of the green, and as with most holes here the putting surface is heavily sloped from back to front.

This was a very interesting day to play a putting gambling game, as everyone contributed to the kitty for three-putts. There were a ton of them, although Tad's future father-in-law, Tom, somehow got through all eighteen holes with only 25 putts! As for myself, I broke my aforementioned golden rule of staying below the hole time and again, and finished with 36. I cannot stress enough how challenging these greens are. Many downhill putts were actually considered successful when they stopped within ten feet of the hole.

Everyone in our group agreed that Baraboo Country Club was a wonderful surprise, and a fantastic value. The next time you find yourself putting together a golf outing in Wisconsin Dells, and are having a hard time finding reasonably priced tee times, I recommend checking out Baraboo Country Club. You will not be disappointed!
Revised: 05/27/2012 - Article Viewed 21,996 Times - View Golf Course Profile
Share Comment
Written By: Paul Seifert

Paul Seifert is an often-proclaimed golf addict, and publisher of WiscoSportsAddict, a blog started in August, 2011, as a forum dedicated to reviewing courses and sharing the best of the best in the state with other avid Wisconsin golfers.

Having started playing in Hartland-area leagues at the age of 12, Paul is a classic over-thinker who averages between 80 and 120 rounds per year, and despite carrying a 13-handicap, is committed to the ongoing improvement of his game.

A health care equipment salesman by day, Paul does not claim to be an expert golfer, but is certainly an expert golf enthusiast who loves the sport and enjoys the writing, research, statistics and photography that make for interesting golf conversation.