Share:
---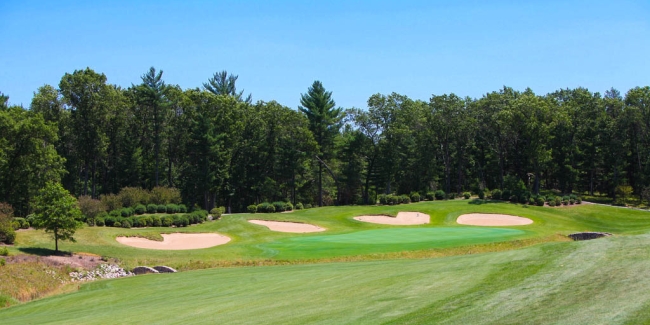 The Castle Course at Northern Bay Welcomes the Four Coursemen
Different by Design
By Glen Turk
The Four Coursemen - an assemblage of four golf aficionados with over 40 years experience covering golf in the Midwest. Our mission: travel to the finest destinations in the Midwest and file reports based upon our experiences.


Re-Introducing the Four Coursemen
Glen Turk
- Senior Writer/Editor of Midwest Golfing Magazine since 2006.
Jay Royle
- Publisher of Midwest Golfing Magazine since 2003.
Brian Weis
- Owner and Publisher of GolfTrips.com, a family of over 30 golf-themed websites from coast-to-coast dedicated to promoting the game.
Paul Hundley
- World renowned golf photographer and Director of Photography of Midwest Golfing Magazine since 2010.
In a golf world where courses are always trying to find new and clever ways to differentiate themselves from the pack, The Castle Course at Northern Bay just north of Wisconsin Dells, WI is different by design. As the Midwest's only replica golf course, The Castle Course has the unique ability to transport golfers to seven of the most memorable layouts of all time, while ingeniously surrounding them by 11 original gems.
The Four Coursemen were thrilled to make the hour and a half trek north of Madison to experience year two of the Castle Course's new regime led by managing partner Darrel Malek. Under the guidance of Malek and General Manager Chris Paitrick, the property is back to the past glory that made The Castle Course a top 10 new course entry by Golf Digest in 2007.
1) Opening thoughts about impending round before first tee shot is struck.
A Visit from the Turk
My first thought is for my fellow Courseman and boss Jay Royle. Please don't get another speeding ticket before you get here like last time. I don't need you in a bad mood because you'll be less likely to pick up my lunch tab!
A Conversation with Royle-ty
My initial thoughts are how pure the greens are at The Castle Course. I always feel if I can get on the green in regulation I'll have a lot of great chances for birdies or possibly an eagle. But of course, like any top notch course in the Midwest, you have to be playing from the shortgrass in order to succeed.
A Slice from Weis
I have only played the course once before and I just remember not being excited about playing the first time. Largely because I had never played a replica course before and the word "replica" just has an uninspiring connotation. I remember after my round being excited about previewing a few of golf's greatest holes. It has been a few years but I am excited to go back because I now know playing the course is a real treat.
Hundley's Focal Points
As with any course, my thoughts on the first tee are to play a cautious round and not to attack pin locations unless the approach shot is short and I can clearly see the entire green surface and all surrounding hazards. Keeping big numbers off of the scorecard is largely a matter of hitting to targets on both fairways and greens which are clearly visible and as far from trouble as possible.
2) First sense of shock and awe on the Castle Course.
A Visit from the Turk
I have never been to Augusta, Oakland Hills, or Firestone so my first sense of shock and awe is standing on the tee of the Castle's replica of the 17th at TPC Sawgrass. I was lucky enough to birdie the original in 2004, this time not so much.
A Conversation with Royle-ty
It has to be right away while settling in your cart because you're looking right out at the famed 17th TPC Sawgrass replica island hole and Arnie's Bay Hill 18th. That's an "awe" that really gets you fired up!
A Slice from Weis
The third hole is a replica of #16 at Augusta National. The green has drastic slope, and anything under a four putt is good. I have never walked the hallowed grounds of The Masters but TV does not do that green justice.
3) What is the one hole you want to hit quality shots on and why?
A Visit from the Turk
It has to be the 10th hole, a.k.a. the replica of the TPC Sawgrass' island green 17th. While the Castle Course doesn't have a dedicated employee counting all the water balls like Sawgrass does, it's always in the back of my mind that four golf shop employees and ten diners in the restaurant are keeping track just the same. You can't let the masses down; it's time to stick one on the green on your first try. Fortunately the first three members of our Quad Squad hit the green in one take- we don't need to mention who splashed six balls in the drink, do we Weis?
A Conversation with Royle-ty
I'm a bomber so it's getting to play the par-5 11th. (Editor's Note- saying Jay is a bomber is like saying The Beatles were a popular band. Jay is not a bomber- he's a beast off the tee!) I want to rip a drive with hopefully a baby draw that will get me a great look at getting on in two and a chance for eagle. Making eagle on an Augusta National replica hole, now we're talking!
Hundley's Focal Points
The island green at #10. It's been my policy for the past 30 years to always tee up a brand new ball when facing an island or peninsula green. I find that it helps to focus the mind since one of the worst feelings in golf is losing a ball on your very first swipe at it.
4) Unique story about a past round at the Castle Course.
A Visit from the Turk
During my first round in 2008 I was in the trees on number 15 trying to chip out and I had a "Jeff Maggert moment" at The Masters. Right after making contact my ball ricocheted off a tree 10 feet in front of me and crashed into my leg. A few inches higher and I would have been singing "Moon River" all the way to the emergency room.
A Slice from Weis
I hit three balls in the water off the tee on number 10, the island green. They used to take a $10 wager and if you hit the green you got a golf cap. Our group did not want to participate but so wanted to stick the green. If memory serves me, I dropped a ball from the drop area and stuck it close for a bogie. I went on to shoot a 39 on the back to win the skins game against my dad. We used to have legendary battles on the course...the beer afterward never tasted so good.
5) Why it's a property the "Four Coursemen or Coursewomen" in your life should visit?
A Visit from the Turk
Forget about the seven replica holes, it's the other 11 that should be copied someday. The three hole stretch of #13-15 on the back nine are legendary in their own right. Plus the historical signs on each replica hole are extremely well done and a great read.
A Conversation with Royle-ty
The replica holes of course stand out the most, but the entire course is a fun, memorable, and well-manicured ride. Make sure you end your round on the gorgeous deck overlooking the 18th. This is a great place to watch fellow players come in while you're reminiscing about your group's round - now that makes a day at The Castle Course perfect!
6) Final thoughts from the 19th Hole.
A Visit from the Turk
The Castle Course at Northern Bay has one of the best clubhouse views in the nation. They purposefully relocated the clubhouse so the restaurant now overlooks the par-3 10th hole, Northern Bay's tribute to the 17th at TPC Sawgrass, and the par-4 18th (replica of Bay Hill). From inside the glass the game looks so much easier. I dare you not to root for some random golfer's shot to find the putting surface on either hole!
Hundley's Focal Points
Even though I've only played the course once, one thing I noticed on both of my photography trips there is that most of the players walked off of #18 with big smiles on their faces. I see a lot of golf courses every year and that is a surprisingly rare experience. I'm not sure whether it's the consistently good condition of the course, the staff's excellent customer service I've witnessed on both trips or that the course is just plain fun to play, but a noticeably higher percentage of players walk off of this course in a good mood than is normally the case.

Article Tags: The Castle Course at Northern Bay
Revised: 09/05/2012 - Article Viewed 22,617 Times - View Golf Course Profile
Share Comment
Written By: Glen Turk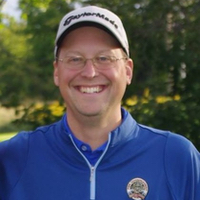 Glen Turk is a Wisconsin native and is the Senior Writer/Editor of Midwest Golfing Magazine. Midwest Golfing Magazine was formerly known as Pub-Links Golfer's Magazine and is a free publication distributed four times per year throughout Wisconsin, Illinois, Michigan, Minnesota, Iowa, Indiana, and Ohio.

His duties at MGM include writing course features, facilitating product testing, and overseeing the overall content and look of the magazine. But clearly his most important task is playing as much golf as his wife allows. Fortunately for him, she plays also and loves out-driving him even with a 60 yard head start.

Glen plays to a 6 handicap but once set a record by having his ball retriever regripped 15 times in one calendar year. It was a December trip to Guam that ultimately did him in. Finally, if you haven't caught on by now, the two most worthy weapons in Glen's writing arsenal are self-deprecating humor and pithy one-liners.

My signature line, "Be A Force on The Course" and now more recently, "Hit 'Em Where They Mow!" can be reused at no charge.