Share:
---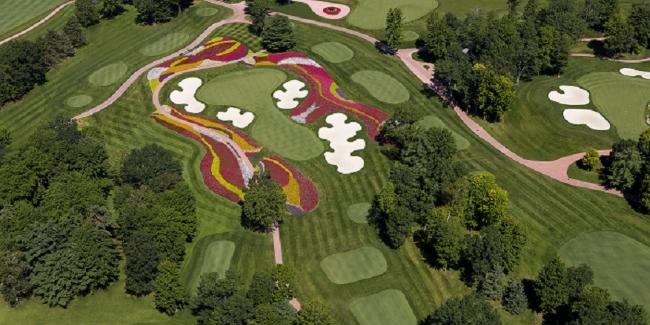 Flower Hole is Still Golf's Most Beautiful
SentryWorld Reopening
By Len Ziehm
When you visit the SentryWorld course in Stevens Point, WI., there's always the temptation to get overwhelmed by its world-renowned Flower Hole. I've seen lots of beautiful golf holes, but No. 16 at SentryWorld remains my choice as the most beautiful.

The course opened in 1982 and was recently renovated by Robert Trent Jones Jr. in collaboration with Bruce Charlton and Jay Blasi. I'd planned to make the unveiling of the renovated layout, but it was rained out.

Still, I can report that the Flower Hole hasn't lost a thing in the changes. Never the most difficult hole in golf with tee placements ranging from 97 to 176 yards, it now is adorned with over 50,000 flowers. The hole had about 42,000 before the renovation.
Long respected for his architectural work, Robert Trent Jones Jr. has created a mini-controversy with his assessment of new No. 5 hole, a par-5. He calls that hole "one of the most beautiful holes at SentryWorld and, for that matter, in all of golf.''
Revised: 10/15/2014 - Article Viewed 21,951 Times - View Golf Course Profile
Share Comment
Written By: Len Ziehm
My 41-year career on the Chicago Sun-Times sports staff ended with my retirement on June 30, 2010. During that stint I covered a wide variety of sports, but golf was a constant. I was the paper's golf writer for 40 years, during which time I covered 27 U.S. Opens, 10 Masters, 17 PGA Championships, four U.S. Women's Opens and the last 34 Western Opens in addition to a heavy load of Chicago area events.

For 20 years I was a columnist for Chicagoland Golf, a newspaper that suspended publication following the death of founder and good friend Phil Kosin in 2009. (This is not to be confused with the publication of the same name which was introduced in 2013 after being known as Chicago Area Golf for three years). I also contributed a chapter to a history book on the Solheim Cup and have been a member of the selection committee for the Illinois Golf Hall of Fame.

As a player I remain just an avid hacker with a handicap that never has dipped below 16.