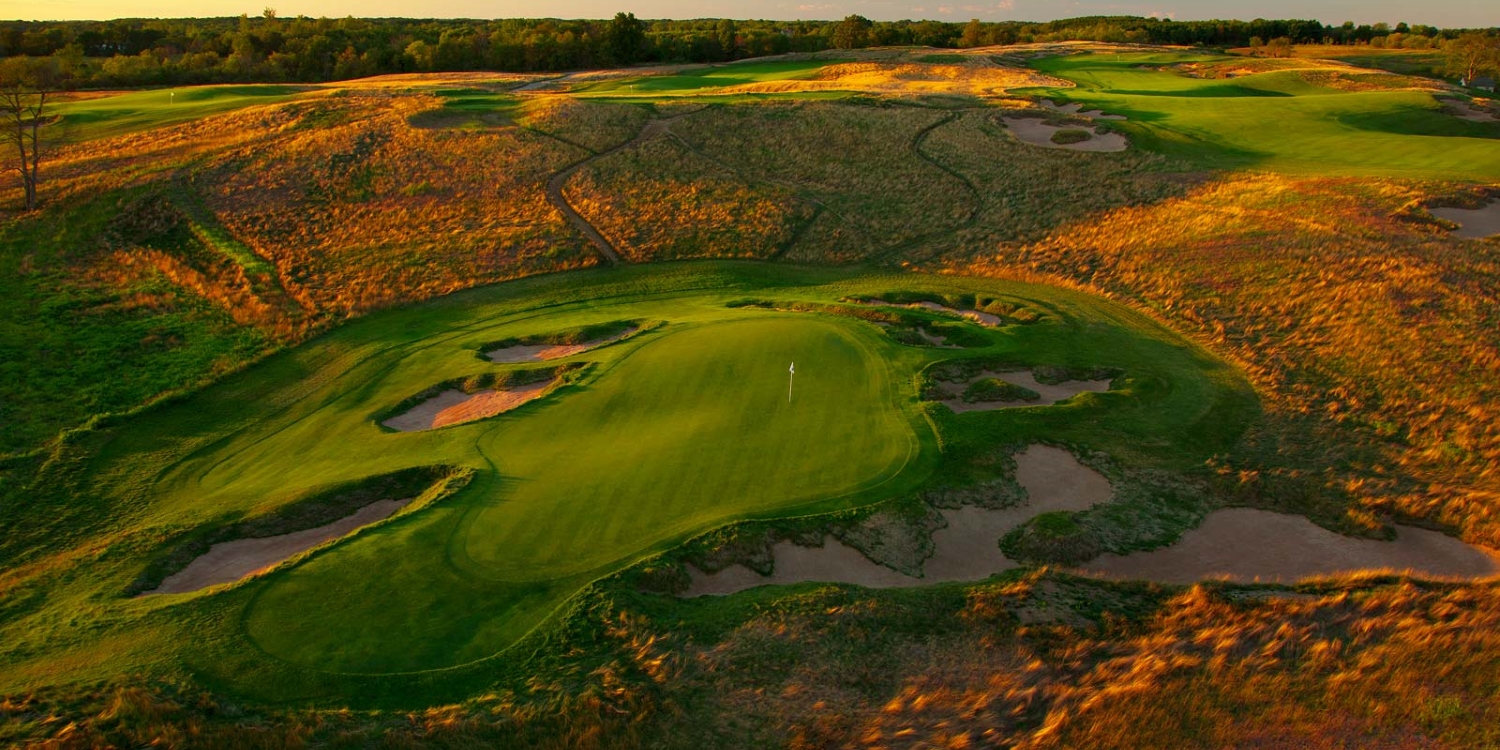 Golf Course Review: Erin Hills
Great layout, play it next year
The layout is fantastic, the course is difficult, the conditions are not and will not be country club quality.

That's the short of it.

I played last week on a wet day, (paid $90 for some reason, didn't ask why we got the discount)with our nines being delayed by three hours due to lightning. Carts were not allowed this day. (walked it, no big deal for me, I'm 30) We spent the time with the rest of the players in what the kid who drove us from the ninth green called 'the drink barn'. Drinks, service and staff were great during the delay, as we hoped to finish, we did. Make sure you get a road atlas, I mean course map, signage is completely lacking right now.

OK the course: We played the greens tees (6500 or so), I'm a 10 and found it challenging enough at 6500 (shot 83), but suspect a 10 could still enjoy the round (break 85) from the blue tees at 7100. Unless you're Fred Funk, keep the driver in the bag on most par 4s (except 3,9 and 17). I would argue that hitting driver on 1 (par 5) isn't mandatory from the green tees, as nobody is getting home in two, I would hit a deuce next time. Hitting into the fescue is instant death. The par 5 fairways are remarkably wide, particular if you hit from the green tees.

I've never played a course where position was more important. Yes, there are lots of blind shots, but many can be avoided by being in the proper fairway/rough position. You must be on the proper side of the hole if you want to score. The greens are very undulating the 10th is a half-pipe, the 2nd is a semi-trailer, long and narrow, the 3rd is just, well a great shot into the left side pin, can quickly become a 60 footer from the bottom right, the USGA will love it.

The 7th is interesting 'hit it over the rock', the USGA will not like this, hence the 19th hole.

The best part: you are all alone, no homes, no cars, just golf.

It did open too soon, range, putting green, lack of signage was all disappointing. Fairways and greens do need to grow up, but I expected that. Don't expect Chenequa or Bog type conditions.

Put it this way, in two years I would rather play Erin Hills than the Irish Course, but maybe not Blackwolf Run (River).
Overall Experience
We Need Your Help Need!