Share:
---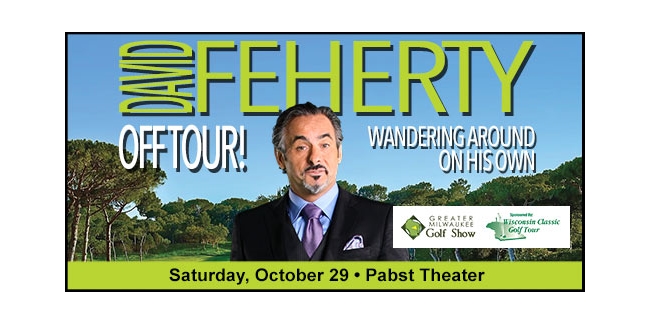 David Feherty Live at Saturday, October 29 at The Pabst Theater
Golf's Most Hilarious & Irreverent Personality Brings One Man Show to Milwaukee for First Time

DAVID FEHERTY - "Off Tour - Wandering Around On His Own"
Telling hilarious stories about his life on and off the green
LIVE AT THE PABST THEATER
SATURDAY * OCTOBER 29 * 7PM DOORS | 8PM SHOW
Purchase Tickets

Former professional golfer on the European and PGA Tours, current writer and broadcaster with NBC Sports and the Golf Channel, David Feherty will make his Pabst Theater debut on Saturday, October 29th. Feherty will bring his sharp wit, colorful personality and cutting edge style to share his great stories from behind-the-scenes.



Hailing from Northern Ireland, Feherty turned professional in 1976 and spent most of his playing career in Europe, where he won five times and finished in the top ten twice in the European Tour's Order of Merit, placing tenth in 1989 and eighth in 1990. He spent 1994 and 1995 playing mainly on the PGA Tour in the U.S. His best result on the tour was a second place finish at the 1994 New England Classic. Feherty represented Ireland in international competition and captained the victorious 1990 Alfred Dunhill Cup team. Feherty played for Europe on the 1991 Ryder Cup team.

In 1997, Feherty retired from the tours and became an on-course reporter and golf analyst. Feherty is a contributor to Golf Magazine and has his own column in the back of the magazine called Sidespin. He is also The New York Times and Booksense bestselling author of four books: A Nasty Bit of Rough, Somewhere in Ireland a Village Is Missing an Idiot, An Idiot for All Seasons and David Feherty's Totally Subjective History of the Ryder Cup. On June 21, 2011, Feherty premiered his own weekly prime time talk show called Feherty on the Golf Channel.

In 2014, Feherty decided to take his act on the road and travel across North America for his new live show Feherty – Live Off Tour. His cutting edge style is full of great stories from behind the scenes, a show you don't want to miss.

Posted March 16, 2016 || Viewed 2,198 times
Share Comment
Like Us For Local News and Specials